Come to Kocourek Ford Service Center for Your Next Maintenance or Repair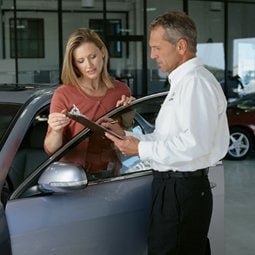 We offer Complimentary Shuttle Service to the Greater Wausau Area! This includes Wausau, Schofield, Rib Mountain, Weston, Kronenwetter, Mosinee and Brokaw.
Regardless of what make or model you drive, whether you purchased it in brand new condition or previously owned, your car is an investment--it only stands to reason, then, that you ought to protect that investment to the best of your ability.Fortunately, keeping the appearance, performance, and mechanical integrity of your daily driver up to snuff isn't nearly as complicated as it may sound when you have our team of experts here at our Ford service center to lend a helping hand. We want you to get the very most out of every mile spent behind the wheel of your trusted ride, and there's no better way to do just that than to keep up with your car's regularly scheduled maintenance.
Granted, simply having the necessary services performed at the proper mileage intervals alone isn't enough; that service should always be conducted by those who really understand the ins and outs of your particular make and model. Needless to say, not just any service department or auto body shop in the Schofield, Mosinee, Stevens Point, or Merrill, MI area will make the cut.
We boast not only the experience and the expertise needed to ensure you are getting the finest auto service or repair necessary, but we always use the proper tools, without fail. Unlike other service shops which may try to keep operation costs low by opting for components of a lesser caliber, we are committed to only using the genuine, OEM-approved parts and accessories which have been meticulously crafted to mimic the fit and finish of your vehicle's original equipment.
Want to learn more about the scope of our services? Feel free to give us a call or top by our store today! Or, if you prefer, we welcome all of our customers from Wausau, Antigo, Stevens Point and beyond to make use of our online service scheduler for quick and convenient appointment bookings.